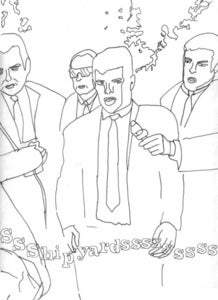 $

10.00
*PLEASE NOTE ALL ORDERS SHOULD NOW BE PLACED THROUGH WWW.GEOGRAPHING.NET. THX*
One stop Shipyards shop:
1) Shipyards t-shirt as pictured! Be the first person on your block to say "why are there so many s's?" Shirts are made to order- name your size/name your shirt color/if you really want, name your ink color too! I will make it for you in my kitchen. These are $10.
2) Shipyards' latest release and only the second outside of the "Learning" CD-R line
C30 tape, features handmade covers featuring images from a romanian book on the Galapagos islands, and 3 tracks, "Most Nautical" "Hey Dude, Divorce!" and "Jack Donson"
Limited to 50 copies, upgraded from initial 5 (yep). Noisey spacey jams, for fans of Blues Control or Prurient covering Atom Heart Mother. $5
3) Shipyards "Learning" -3- and -4-
-1- and -2- are sold out, you can download them from the Shipyards myspace. -3- and -4- continue the Learning series, where everything recorded is released, good and bad. -3- has a lot of guitar interplay drone noise, -4- is more over the map. Individual handmade covers for all, only limited copies remain of both. $3.
The default 'buy' price here is for the T-Shirt; if you want to order other merchandise, send an email to geographingrecords@gmail.com and we will invoice you for the total.